Pat Liston's interview with the French rock magazine Bands of Dixie in January 2007.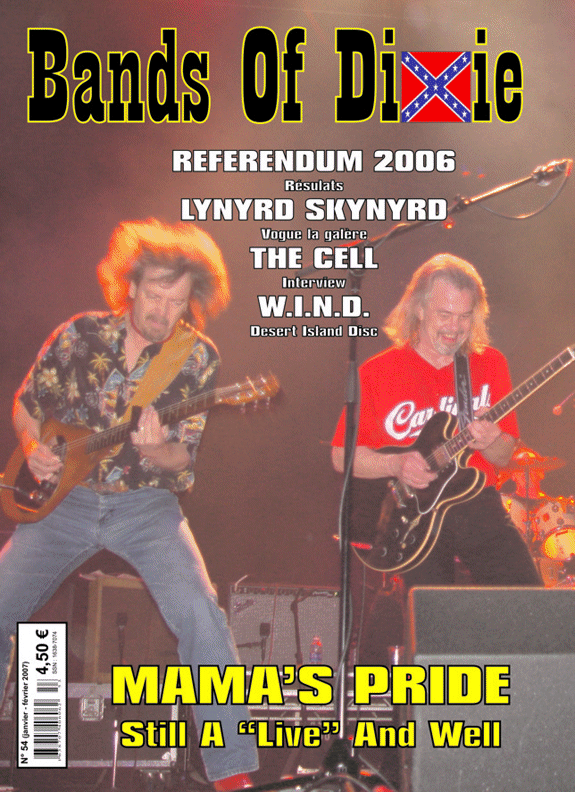 B.O.D.: Could you speak to us about your youth ? What did you listen to when you were young? How had you decided to play guitar ? Who were your musical heroes at this time ?

PAT: I started playing guitar at the age of ten. My mother taught me. She had been a singer and guitarist on KMOX radio in St. Louis in the 30's. I listened to some old country like Jimmie Rodgers and Hank Williams. I liked folk music because it told stories. I liked R&B because of how it felt. I listened to the bands of the times.... the Coasters, The Drifters, Ray Charles, Elvis (particularly his early Sun Records stuff) Jerry Lee Lewis.

B.O.D.: Your brother is the older or it's you ?

PAT: Actually I'm five years older than my brother Danny and if you're with him for more than five minutes, he will tell you that! LOL!

B.O.D.: Which one has influenced the other to do music ?

PAT: I use to give guitar lessons to Danny's friends and he would watch and later practice. I didn't even know he was doing it until one day I heard him playing and he told me. I moved to California to do music when I was young and later came back to St. Louis and got him.

B.O.D.: Could you talk about the Mama's Pride early days ? How the band was formed ?

PAT: I was living in California at the time and came home for Christmas one year. Danny was playing in a band with Max Baker. Max came over to my mom's house one night and he and Danny and I sat around harmonizing for hours way in to the night. The vocals are what grabbed my interest first. I came back six months later and took Danny and Max and two other players, Mike Gordon and Gary Bourgeois and went back to California. We played out there for about two years... six nights a week, five sets a night at any club that would have us. We got very very tight. We came back to St. Louis in 1974 and started playing there because we were able to do all our original material.

B.O.D.: Why have you chosen this strange name ?

PAT: The band was named as a tribute to Danny and I's mother Lucille Liston because she had quit music to raise her family and basically handed down her musical abilities to us. Oddly enough Max Baker thought of the name "Mother's Pride" and I changed it to "Mama's Pride" because it sounded edgier.

B.O.D.: How were you signed with Atlantic Records ?

PAT: Alan Walden saw us in a night club in 1974 because David Cloud (the Outlaws road manager) told him that we were worth seeing. He signed us immediately and he got us the deal with Atlantic. Ahmet Ertegun came to see us at a club in Florida and signed us personally.

B.O.D.: Your first album was recorded at the Criteria Studios at Miami... It's a legendary studio... Have you some special memories about your first recording session?

PAT: Yes, I remember that Arif Mardin (who produced our 1st album) Ahmet Ertegun, and Tom Dowd were arguing about how to get the right sound for us. Tommy wasn't doing a project at the time, he just showed up one day. I thought "Oh my God, Arif Mardin, Ahmet Ertegun, and Tom Dowd, three legends of the industry, are arguing about us"!!!! It was surreal. We rented 461 Ocean Blvd. as a band house. The same one Eric Clapton used when he recorded the album of the same name. A few days later Eric showed up at the studio with Patty Boyd.... I don't know who was the biggest thrill to meet? Average White Band came in and the Bee Gees as well. We attended the Bee Gees release party for "Main Course". No one showed.... it was a huge direction change for them and I don't think a lot of people liked it. I sat and got drunk with Barry Gibb.... he was so worried they'd made a mistake. Obviously they had NOT!!!

B.O.D.: Could you also speak about the cover ? Nice boys on the front cover / bad boys on the back ?

PAT: It was intended to mean just that. The woman on the front was not my mother (everyone thought it was) They had told me they were going to make her look silly and I wouldn't let them use my mom.... then as it turned out, they used a photo that they liked because of my expression and the woman looked normal. I was a bit disappointed we weren't able to use mom? The twins on the back were paranoid as hell that we were going to attack them or something? They were a real pain...... the one in the doorway was a great girl and very professional. We were in and out in about an hour.

B.O.D.: Who were you at this time ? good or bad boys ?

PAT: We were never really "bad" boys. There were very few fights, although people will tell you different, and we NEVER trashed hotels. We actually respected other people. We grew up blue collar and knew what it was to work hard towards something. If you trashed a Hilton room or suite, Mr. Hilton wasn't going to clean the damn thing..... some poor blue collar maid was going to have to do it. We did our share of drinking, drugs, and women so we weren't choir boys... we just weren't mean.

B.O.D.: How was the critics about the first album when it was released ?

PAT: We actually got very good reviews on the first album. Rolling Stone did a very favourable review.

B.O.D.: With three lead guitars, of course we think about Lynyrd Skynyrd & southern rock. At the time of your first album Mama's Pride was labeled southern rock ? Do you think it's a good definition about your music ?

PAT: yes and no....... the guitar harmonies we did were often old R&B horn riffs. The first time Ahmet Ertegun heard "Ol St. Lou" he recognized the harmonies as horn licks. We did a lot of vocal harmonies which was not indicative of southern rock..... we had a lot of R&B influence. We leaned into the southern rock thing because it was all our manager knew and he knew it well. He wanted us to go that direction. We formed in 1972.... before anyone knew about Lynyrd Skynyrd or any southern bands. The only one out there was the Allman Brothers and they were not "southern rock" at the time. It was a jazzy blues thing. We did some of their early stuff when we played clubs

B.O.D.: Three guitars, many vocal harmonies... sometimes you make me think of an Outlaws version with blues & rhythm & blues instead of their country roots... What is the southern act you think your music is the closest ?

PAT: The albums didn't always show it but the band we were the closest to was the Allman brothers..... later we were a little like Lynyrd Skynyrd. Ronnie Van Zandt hated to be called "southern rock" ..... he was actually going to produce our third album. He believed we were not southern rock and wanted to help that process. As you know, he was killed in the plane crash only weeks after he and I had talked.

B.O.D.: After the release of your first album, did you do many tours and shows ? Have you opened for many southern acts at this time ? Who ?

PAT: we never had an actual tour with one major band. It was always different groups. We played with The Charlie Daniels Band, The Allman Brothers, Marshall Tucker, Bob Seger, Heart, Kansas, Alice Cooper, The Outlaws, Lynyrd Skynrd, REO Speedwagon, Ringo Starr, Todd Rundgren, Joe Walsh, Stephen Stills, and Loggins & Messina and more. Ronnie Van Zandt was going to put us on the Lynyrd Skynrd tour but it never happened for obvious reasons.

B.O.D.: Were there many southern rock bands in Missouri at that time ?

PAT: no..... there was "Missouri" and "The Ozark Mountain Daredevils"..... but that was about it.

B.O.D.: The first album was released in 1975, the second in 1977 ? what have you done between theses two years ?

PAT: we toured extensively during that time and did a bit of writing

B.O.D.: For the second album two players are gone (Joe Turek & Frank Gagliano) and two had come in (Paul Willett & Dickie Steltenpohl). What happened ?

PAT: Frank was moving in a different musical direction than us so we let him go. Joe Turek had to leave because of some family problems. His, then, wife had just had a baby and didn't want him to tour, so he decided to raise a family and get back in to teaching school.

B.O.D.: For "Uptown & Lowdown" you also changed studios & producer. You were not happy with your first album ?

PAT: Actually, we were a bit disappointed with it. Arif was legendary and an incredible producer but we didn't feel it had the edge we portrayed live so we tried a new studio and producer. Unfortunately, the 2nd effort was not as good as the first and sales proved that point.

B.O.D.: On this second album there is, from my point of view, a special track : "She's A Stranger To Me Now". For me it's one of the most beautiful ballads ever written. Is there a special story behind this song ? Was the song written special for someone ?

PAT: I wrote that and, yes, it was written about my ex-wife. She was an enigma and rattled my cage terribly..... but I got a good song out of it....... actually two....... "You Can't Fool Yourself" was about her also.

B.O.D.: You have probably heard about this song that the voice sounds really like Gregg Allman... What do you think ?

PAT: We were Gregg Allman's back-up band during 1978 and he and I used to talk about that. He said that because we were so close in age that we couldn't possibly have influenced each other because during our formative years we didn't know about each other..... but we both considered it a compliment!

B.O.D.: After the release of this album we have lost the style of Mama's Pride. What happened with the band ?

PAT: Like most 2nd albums we used the weaker material than didn't make the first album and touring so much, you don't write as well and the production was just not that good. We partied too much and didn't take it serious enough.

B.O.D.: On your site we can see that some albums ("Eternal Mystery" & "KWK Moonshine 2") contain some unreleased Mama's Pride's tracks. Have you recorded many songs which are not on your first & second album ?

PAT: Yes, I have about 25 unreleased songs on 2" tape..... if I can put the money together I would like to get them bounced to digital and mix, master and release them.

B.O.D.: In the 80's you and your brother recorded some solo works... Could you tell us more about them ?

Danny did an EP called "Every Beat Of My Heart" it had four songs and was quite good but he couldn't get anyone interested in it. I did virtually nothing in the 80s. I released my solo CD in 2003 called "Blue Mist". Danny also released a solo CD that year called "Last Call".

B.O.D.: In 1991 you recorded "Guard Your Heart"... 14 years after the second album... How was this album born ?

PAT: "Guard Your Heat" was my brothers idea. I didn't really want to record at the time. He talked me into it and most of the songs were his, even though I sang all but one? We were very fortunate to get Jim Gaines to produce it. It was very different for Mama's Pride as it was very keyboard driven. However, I did like the CD and was glad that I did it.

B.O.D.: The music is different than the previous albums... what do you think about it ?

PAT: It was very different but then bands should always evolve. Fans very often want you to stay right were they like you, but that is very confining for an artist...... I liked the album. I am not a big "keyboard" type guy but I still enjoyed it.

B.O.D.: The 2003 reunion was only to record the CD or did you do some more shows?

PAT: We had no intentions of recording. I did not want to do the reunion. I thought it would fail. I thought we might get three or four hundred people show up. It sold out in five days (1500) Then we did a 2nd show three weeks later and it sold out. I was very shocked. That's when I decided to bring in an audio team to record the events. The "live" cd is a compilation of three shows.

B.O.D.: But one more time we have lost the Mama's Pride style... What happened ?

PAT: I'm not sure I know what you mean by that, but I am assuming you mean that we don't sound like the 1st album. Remember, we didn't like the sound of the first album. The "live" CD is what we truly sounded like live and is probably more the direction we wanted to be even back then?

B.O.D.: Before speaking about the latest CD album, I would like to speak about your solo album "Blue Mist"... which contain some Celtic flavour... How were you involved in this type of music ? Do you have some some Irish roots ?

PAT: Danny and I are 100% irish for as far back as I have been able to trace. I have been to Ireland 6 times and love the music. I sang Irish music for over two years at a Pub in St. Louis called McNulty's...... during this time I got a good understanding of the style and it influenced my writing and my producing.

B.O.D.: Have you heard about some great french celtic artists like Alan Stivell, Dan Ar Braz or Try Yann ? If yes what do you think about their music ?

PAT: No I have not...... that is one of the things I learned while in Ireland..... there are so many fine european artists that we never hear over here? It's very unfortunate.

B.O.D.: How was the idea to reunite again for a live CD born ?

PAT: As I said, my brother and I had new solo CDs in 2003. He thought the best way to get a jump start on sales was a Mama's Pride concert..... I disagreed but gave in. I was very pleased to be wrong about this. They sold very well. After two sellout concerts we decided to do one concert a year at the Pageant because it was good money, good merchandizing and a very good time!

B.O.D.: The live CD is really wonderful, have you planned a strong come back with other recordings and long tours ?

PAT: It's hard to do a real tour without a record company behind you or at least a good distribution deal. We have not been able to stir any interest in a "throw away" music business as it is today?

B.O.D.: On the live shot, we can see you with a strange guitar... What is it ? which model? I have never seen it before...

PAT: That's actually a Gibson Melody Maker that was cut down to a "tear drop" shape for slide guitar. I added a Bill Lawrence stacked hummbucking pickup and a Badass bridge and brass nut. I designed the pickguard and had it made and chromed. At the time there were no Chrome pickguards..... I did it to reflect light back at the audience....... or to point out good looking girls for Max! LOL!!

B.O.D.: I'm also a fan of another St. Louis band you probably know Pavlov's Dog. They were very different from Mama's Pride, but do you know the musicians ? Have you played with them ?

PAT: They are very good friends of ours and I have done several acoustic type concerts with David Surkamp over the years. He has one of those voices you either love or hate. He's a very unique fellow and we have been friends for many many years.

B.O.D.: Do you also know another band from St. Louis called Rebel Train ? They play a heavy southern style between Blackfoot and Zakk Wylde... very very... heavy...

PAT: I am embarrassed to say I don't?....... I'll have to look them up. I don't want to get too far out of the loop?


Home| What's New| LNC Schedule| Information| Discography| Message Board| Links| E-mail|
Copyright © 2007 Rock Classics